Welcome
We offer a wide range of alcoholic & non-alcoholic drinks (including locally brewed cask-ales), Coffee & Tea, and a variety of food and snacks.
Click on the Menu tab" above to see details of our food offer.
Come and enjoy Tafarn Sinc's unique accommodation and ambience. Whatever the weather you can be sure of a warm Welsh welcome at Tafarn Sinc

---
A Warm Welsh Welcome at Tafarn Sinc

---
A warm Welsh welcome awaits in Tafarn Sinc
The winding roads and lanes to Rosebush take you on a number of breath-taking scenic routes. Once you arrive you will see a railway platform with passengers ready to board the coming train. Surely it will soon arrive...
Tafarn Sinc has featured prominently in the social life of the area since its inception in 1876 as the Precelly Hotel. There have been several notable landlords. Peg Lewis reigned supreme for 52 years until 1991. Then followed by Brian Llewelyn and his family, when the present name was adopted, for a quarter of a century. Hafwen and Brian 'Bici' Davies were the mine hosts.
It's reputation is known far and wide as the repository of the Pembrokeshire 'wês, wês' dialect and for its unique ambience of yesteryear nostalgia conveyed by the agricultural implements, the flannel shirts and flitches of real ham hanging from the ceilings. And not forgetting the castrating pincers and the sawdust strewn floors.
All modern-day whims have been resisted. The charm of days gone by remains. It can be felt on stepping over the threshold. It can be breathed in. It will surely leave an indelible impression that will make you want to return soon.
Listen to the constant string of Welsh songs that will make you feel at home.
Enjoy the romance of the hills over a succulent meal. Have a thirst quenching drink following a walk across the Preseli ridge. Tafarn Sinc is the hearth of hiraeth. Do return for Sunday lunch. Dogs are welcome.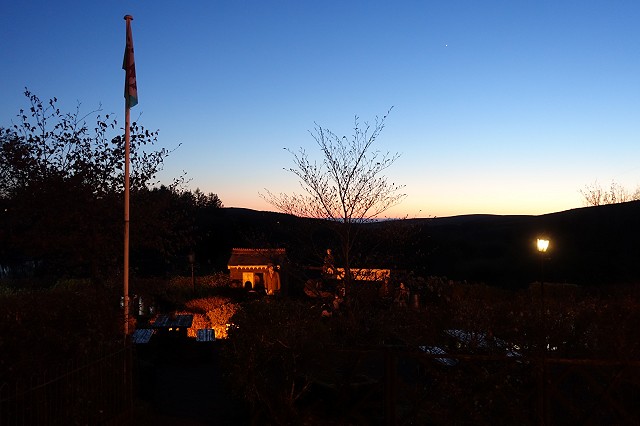 Latest News
Summer Opening Hours now in operation


The Kitchen is open between 12.00 - 2.30pm and 5.30pm - 8.30pm every day during the Summer
Our Menus feature a high proportion of locally sourced ingredients made into delicious meals in-house.
Choose between One of our "Light Bites": such as a Chicken Caesar Salad; one of our Tafarn Sinc Favourites like our 5 Bean Vegan Chilli or maybe a delicious Homemade Burger "Off The Grill". There's also a selection of snacks & meals for children.
Click here to see the full Menus.
Naturally, we have a good selection of alcoholic & non-alcoholic drinks & beverages to accompany your food.
We're looking for a Part-time Chef's Assistant
---
---
Shareholders & Peer to Peer Lenders
Our latest Accounts are available in the Members' Area of this website.
If you are a shareholder or lender & have not received our most recent report (sent 17/03/21), please let us know by emailing Directors (admin@cymdeithastafarnsinc.cymru) or by writing to us:
The Board,
Tafarn Sinc, Rosebush, Maenclochog, Clunderwen, SA66 7QU
We should like in future to use email as our primary means of contacting Shareholders & P2P Lenders.
Please include a current email address and\or your correct postal address in your letter.
Thank you.
Events
Some exciting entertainments & culinary events are being planned for the New Year.